Picture Gallery
Growing Up
Growing Up 2
Growing Up 3
1st Birthday
2nd Birthday
3rd Birthday
Sick Baby
Climbing Stairs
Christmas 2004
The First Dance
Cancer discovery
Transfer to PCMC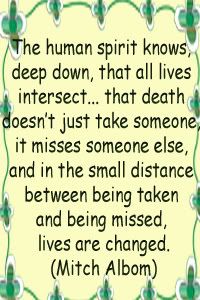 send an e-mail to



prayed for Py? e-mail your mailing address to:
delisyus @ gmail . com
Kythe Foundation
Cancer Warriors
Save Jack Simbulan
World Vision
Give a Life
PGH
Project Brave Kids



RX Pinoy
Fight Cancer
Health for Life
Philhealth Info
PGH
H.O.P.E.
FAD Inc.
Asian Health Outreach Foundation
MAX Foundation
Parallel Universes

October 2005
November 2005
December 2005
January 2006
February 2006
March 2006
April 2006
May 2006
June 2006
July 2006
August 2006
September 2006
October 2006
November 2006
December 2006
January 2007
February 2007
March 2007
April 2007
July 2007
September 2007
November 2007
December 2007
March 2008


Powered By: Blogger
Pictures At:Photobucket and SmugMug

Layout By:Trina & Hajira
Modified by:MOI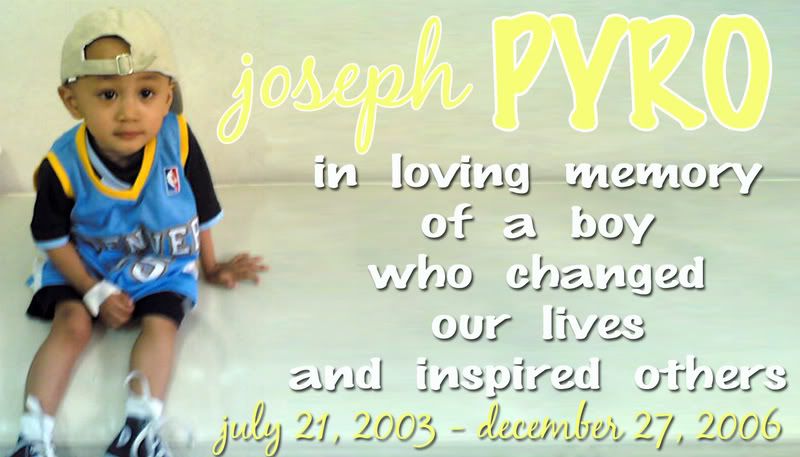 || Friday, January 27, 2006 ||
AND YOU THINK I LOVE HIM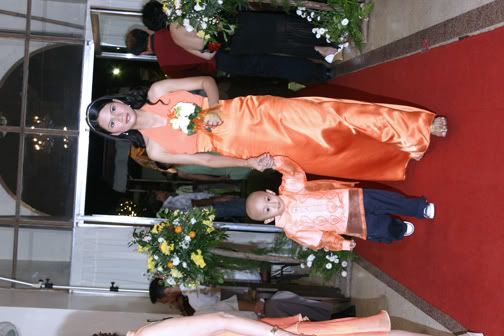 Pyro should have made his entrance with my niece Ela, as they were both Honorary Best Man and Maid of Honor. But my sis, who was MOH, insisted that Pyro escorts her.

People who read this blog, or those who know me personally, usually comment how touched they get that I so love my nephew.

But if they knew my sis, and how she is with Py, then they'd know what true devotion is.

*~*

Because Py was a baby in a household full of adults, it was really easy to be swept away from our cozy beds and restful sleep with just one whimper from the babe. It was automatic. it was reflex. But my sis was always the first one there.

Everyone HOVERED over his crib, his mat, over him. But it was my sis always the last to go.

Also, it's Grace alone who can manage to soothe Py without getting her patience tried, in the few times that Py's really sick, and therefore upset.

She can change his diaper. She can suffer his vomit all over her. She is always more than willing to suffer lack of sleep, attending to him instead of resting for school the following day. She efficiently feeds him. She very much adores him. She'd even buy stuff for him, saving up what she can from her allowance. Heck, she can even eat some of the stuff that Py makes luwa.

She even skips dates and late-night talks with her boyfriend just to take care of our nephew :)

And when Py first got sick, she missed school and more sleep. Always the first to DENY any chance of Py giving in to the sickness, she always remained with him, squeezing visits to PCMC (which is really far) with school and nursing duty.

I could go on and on and on... about how truly devoted she is to her. And one just has to see Pyro cling to her the minute he sees her, eventhough it's his Mom and Dad who mostly stays with him in the hospital these days, to know that Ninang Grace was someone Pyro knew he could really count on for unconditional love and comfort.

Ninang Grace was all his...

And I know, she'd be the happiest person on earth WHEN we hear that Pyro has truly beaten cancer.

*~*

Visited him yesterday. Doctors are amazed at how strong he seemes, despite the frail body. He's now eating solid foods (he's a fan of Goldilocks' raisin and oatmeal cookies dipped in milk). He's back to watching DVDs. He can even sit up now.

Of course, he looks bad. He gets thoroughly bothered when Jun shows his stitches to people. He gets upset when nurses and doctors come in. He sometimes just stare at you. Sometimes, he cries in that really heartbreaking way where he's just quiet while a lone tear falls from the corner of his eye...

Still, it's going to be one heck of a homecoming when he gets discharged after this operation :)

*~*

Attina, I don't know you but I was greatly touched by your kindness. I'd like you to know that Pyro played with the 'cellphone' you gave him and would even pretend to be listening to someone over it :) I'd take a picture next time.

Again, thank you for the kindness...

And thank you for the kimono too :)


|| Wednesday, January 25, 2006 ||

HE WAS IN GOD'S HANDS ALRIGHT

And we're still amazed at how well he has responded to it all. Our beloved is really a fighter... and maybe because he's young, he still has much of life in him.

Anyway, it was with great gratitude and happiness when my brother texted me yesterday to inform me that Pyro has been DISCHARGED from the ICU. His lungs could operate just fine :) And my brother thanks everyone, and asked me to be specific and thank the readers of this site who have been praying for his son.

And of course, he asked for more prayers. But he need not do so.

For when I found out that Pyro's surgery went relatively well, I texted all the contacts in my fone book. Most replied with happiness too at the news, and all of them also said they have been praying for him every day/night... and that they'd continue praying for him... for COMPLETE RECOVERY.

I dare not hope so much since I know the road ahead is still a rocky one. But Py has survived 3 chemotherapies and 1 major surgery and he's still with us. That alone feeds the faith that God didn't give him to us two and half years ago only to take him away this early.

:)

Thank you all for helping us storm the heavens with prayers.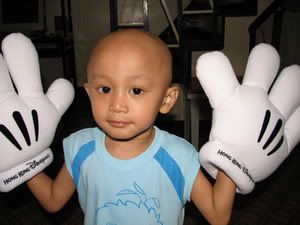 Py playing with our Mickey Mouse hands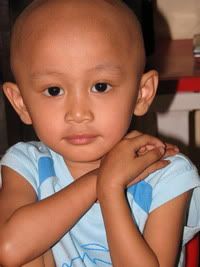 Look past the fact that he looks old and sick, and he's too thin. Look at his eyes, his soulful eyes and that half-smile. Aren't they suggestive of a promise? And isn't my nephew beautiful?
|| Monday, January 23, 2006 ||

Py is already at the OR, as I post this.

Since yesterday, he's shown signs of fluid retention that caused his face to swell. They say that it's likely because of the dosage of the antibiotics being administered to him.

Anyway, I shall go about my business with bated breath... may my nephew survive this one.

UPDATE: 4:11 PM

Pyro has been released from the OR and is now recuperating in the ICU. He's also woken up.

The tumor taken from him is on its way to St. Luke's for further analysis, as they found cheese-like consistency there that they want to be looked into.

I had it all wrong, the tumor was actually outside of his right lung (but grew to what was supposedly the size of a lung) and was not able to develop nerves to attach (and contaminate, is that the right word?) itself to Pyro's vital organs. It was aggressive, yes, but not so bad.

So yes, even though Py has rehabilitation, more tests and more chemo treatments ahead of him... we're all able to breathe a little easier now.

And smile :)


|| Thursday, January 19, 2006 ||

Unfortunately for us, and for Py, his high fever resulted in a decision to postpone his surgery.

So now, we wait again... while doctors consult if, in the event his fever doesn't subside (again, the fever seems to be the result of the tumor growth pushing/dislocating certain chest bones and his heart), they will risk surgery.

So, we wait again...


|| Wednesday, January 18, 2006 ||

THERE MAY BE NO SLEEP TONIGHT

... not just out of worry for Py, and the outcome of his operation tomorrow... but also because my Mom is REALLY NERVOUS, she just might have some sort of breakdown.

I wouldn't be too surprised if her blood sugar fluctuates, with all the stress.

Py would be put on a respirator tonight. He's still running a fever, and we don't know if the doctors will operate on him if his fever doesn't go away (a fever, i suspect, that's mainly a symptom of how aggressively the tumor is compromising Py's health).

He will be wheeled to the Operating Room at 8:00 AM tomorrow.

One of us can join him there. And I doubt his parents can, them already in shock. My cousin has volunteered.

I know my sis plans to skip school. I'm thinking of skipping work. I would be totally useless anyway.

Ah, God, grant us the serenity to accept your will. If it's Pyro's time... all I ask now is that he doesn't suffer much.

(to think... over a year ago, I was crying because Py was crying over his shots... and it was a necessary kind of pain... and I was already sad then at the thought that he'd grow up to skin his knees and break his heart...)


|| Tuesday, January 17, 2006 ||

THIS IS IT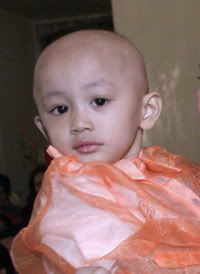 I'm going to be admitted today.

And then i'm going to have my operation this Thursday.

Today marks the day I'd either start to really get better... or worse.

I'd like to say that today marks the day I start dying, but philosophically, my Tita Mec would say that I started dying the moment I started living, which was about the time my Dad's sperm fertilized my Mom's egg cell.

And then there's also that fact that people around me heard my biological clock ticking last October 03, when I first got confined.

Anyway, I hate to admit that i'm feeling tired already... of the medicines (I take about 5 different kinds now, every day), of the trips to the hospital, of seeing my 'elders' come and go and me not being able to tag along...

I'm also tired of breathing... for around 2 weeks now, it's really been hard to breathe. It's hard to even play anymore. And the right of my chest has gotten a little disfigured again. I guess the tumor in my lung is just really aggressive, and was all too happy to regenerate.

I don't know how long i'd be in the hospital this time.... or if i'd ever come out of it alive. I don't know how long i'd be in the ICU... or how long i'd be doped up for the operation. I don't know how long i'd last not actually seeing my family around me while in the ICU, because, of course having them around won't be so sanitary for all of us in intensive care.

I don't know when i'd be able to play with my toys again... or pose for pictures for Tita Mec. I'd miss Ninong Jojo's arrival back from Thailand, and I don't know when i'd get to borrow their Mickey Mouse hands. I don't know if my parents' portable DVD player will be allowed inside, or would I even be awake enough to watch movies from it. I don't even know if i'd be out in time to spend some loving time with Lola before she goes back to the US.

But Lola cooked her usual delicious lugaw for me this morning. She has so many other things to attend to but she's home with us because she loves me.

I wonder when i'd get to feel all the love of my loved ones again... when i'd truly smile again.

But I know Papa Jesus has a plan... and if HE wants me to play around fountains again, HE will make it happen.

Still, pray for me again?

And thank you to everyone who has been so kind.


|| Wednesday, January 11, 2006 ||

Py Baby,

Sometimes I wish you'd stop making lambing to me... preferring to have me feed you... kissing me when I least expect it... hugging me from behind... asking to view my wedding pics... playing with me as if you're buying stuff from me, or selling me stuff...

A lot of things...

Because it breaks my heart to know you'd be in a lot of pain soon... and what more, a dangerously critical condition.

But I love you, and i'd be brave for you.

And i'm praying things will work out... and that your rashes will go away.

Notice how your Mommy is SUNGIT lately? She's scared... so you also have to be strong for her ok?

And don't cry over little things... Lola gets very bothered.

We'd fight with you... for you...

But we need you to also grow up a little faster... and fight for us.

We love you...

We so love you!

Tita Mec

p.s.

I can't promise i'd never make Ninong cry again... he cries easily kasi... he loves me eh.


Get awesome blog templates like this one from BlogSkins.com