Picture Gallery
Growing Up
Growing Up 2
Growing Up 3
1st Birthday
2nd Birthday
3rd Birthday
Sick Baby
Climbing Stairs
Christmas 2004
The First Dance
Cancer discovery
Transfer to PCMC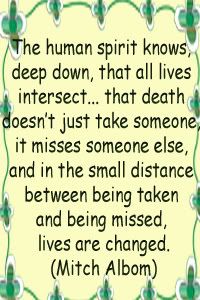 send an e-mail to



prayed for Py? e-mail your mailing address to:
delisyus @ gmail . com
Kythe Foundation
Cancer Warriors
Save Jack Simbulan
World Vision
Give a Life
PGH
Project Brave Kids



RX Pinoy
Fight Cancer
Health for Life
Philhealth Info
PGH
H.O.P.E.
FAD Inc.
Asian Health Outreach Foundation
MAX Foundation
Parallel Universes

October 2005
November 2005
December 2005
January 2006
February 2006
March 2006
April 2006
May 2006
June 2006
July 2006
August 2006
September 2006
October 2006
November 2006
December 2006
January 2007
February 2007
March 2007
April 2007
July 2007
September 2007
November 2007
December 2007
March 2008


Powered By: Blogger
Pictures At:Photobucket and SmugMug

Layout By:Trina & Hajira
Modified by:MOI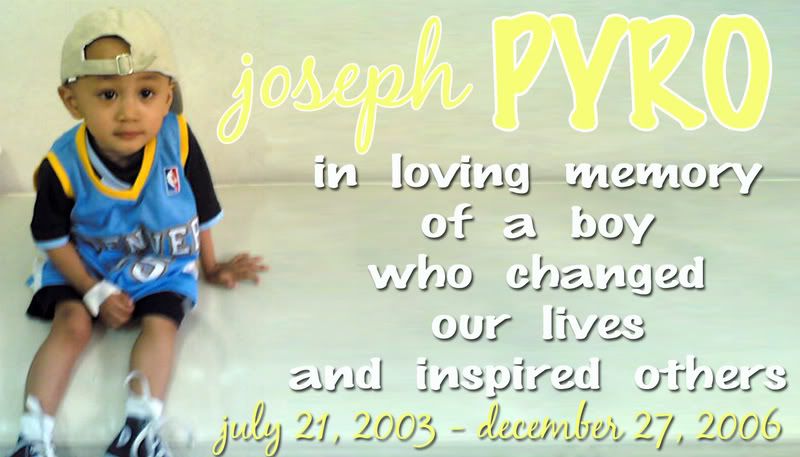 || Monday, April 24, 2006 ||

I am praying for those medically in-charge of Py... that they be healthy and available to go to work, so Py can have his CT scan... and we can have the results that we need.

Time is of the essence, and I fear we may be running on empty.


|| Monday, April 17, 2006 ||

NEXT STOP, ANOTHER CT SCAN

Hopefully, new scans will yield results that will allow fuel our hope that there are better days ahead for my nephew.

Meanwhile, we miss him so.


Anita Stergiou's Monochromatic Paper, Paper from Easter by jaimie, Butterfly from baby Bug Kit, Soft Sherbet Frosty, Friendship Overlay buttons, Inkburrow, Bathingcap and Angelina fonts
|| Monday, April 10, 2006 ||

HOPEFULLY, THE SEVENTH TIME IS LUCKY

I'm actually not sure if this is indeed the seventh (or sicth time) Py has had chemoherapy. I'm pretty sure he got chemo treatment before he was operated on last january...but again, am not sure.

He gets discharged from the hospital today... after several days of basically feeling groggy and in pain... and throwing up everything he ingests...

On one hand, it's like October still... and we're all still stuck in the hell that Life threw us in, riddled with questions and non-guarantees.

On the other hand, Life didn't stop still for our grief... and even Py, who's sick, has continued to thrive and develop like any other toddler. I can't even say that he is an unhappy boy. His battle rages on, and we're all still around to help see him through. The prayers haven't stopped... but the tears don't come everyday anymore.

It's both good and bad that we've learnt to live with his cancer.

And, in three months time, he'd be three years old.


Calvin & Hobbes and Garden Dingbats fonts, Easter by Jaimie - Element Grass, LSmith Girl Thing Kit - Element Butterfly



Shabby Princess - Two Soon Kit (Floral Paper), Sweet On You Free Kit (Double Heart Kelfin), Lainie Day, Inkburrow and Jane Austen fonts




Get awesome blog templates like this one from BlogSkins.com