Picture Gallery
Growing Up
Growing Up 2
Growing Up 3
1st Birthday
2nd Birthday
3rd Birthday
Sick Baby
Climbing Stairs
Christmas 2004
The First Dance
Cancer discovery
Transfer to PCMC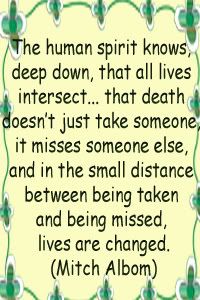 send an e-mail to



prayed for Py? e-mail your mailing address to:
delisyus @ gmail . com
Kythe Foundation
Cancer Warriors
Save Jack Simbulan
World Vision
Give a Life
PGH
Project Brave Kids



RX Pinoy
Fight Cancer
Health for Life
Philhealth Info
PGH
H.O.P.E.
FAD Inc.
Asian Health Outreach Foundation
MAX Foundation
Parallel Universes

October 2005
November 2005
December 2005
January 2006
February 2006
March 2006
April 2006
May 2006
June 2006
July 2006
August 2006
September 2006
October 2006
November 2006
December 2006
January 2007
February 2007
March 2007
April 2007
July 2007
September 2007
November 2007
December 2007
March 2008


Powered By: Blogger
Pictures At:Photobucket and SmugMug

Layout By:Trina & Hajira
Modified by:MOI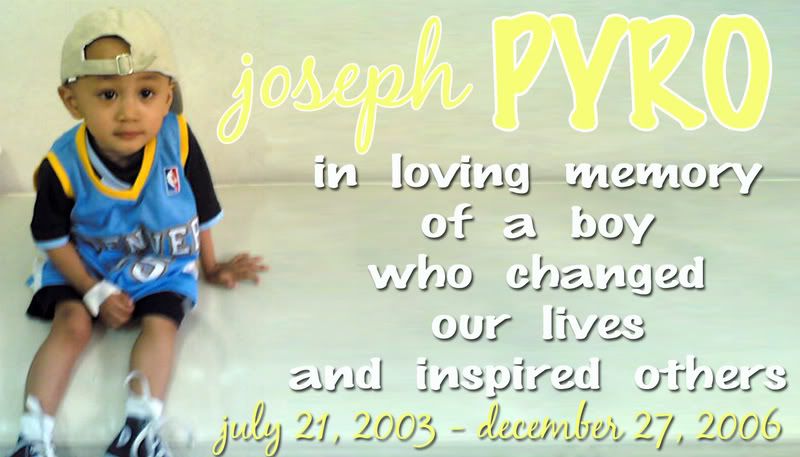 || Friday, August 25, 2006 ||

CHEMO CYCLES AGAIN

Next week, Py stands to have his heart broken again as he returns to chemo treatments... and start losing his hair and eyelashes again. I'm wondering, will he think, at the grand young age of three, that Papa Jesus is taking back His gift of hair to him...

Awww shucks, look at me, crying again.

But actually, we have much to rejoice about where my nephew is concerned. Sure, his parents still owe his doctors some P70k from his surgery last June... and the chemo treatments will cost them again greatly every three weeks... but still, ten months since he was diagnosed with cancer, Pyro has continued to thrive and grow and make friends and discover stuff and learn songs. He's not even small in terms of height... but yes, he could stand to gain some weight (because he's remained at 10 kilos since October last year). It's really amazing how his growth hasn't been stunted so by all the medical procedures he's had to endure. When not confined in the hospital, he's happy and noisy as a lark and it is absolutely priceless to have him able to be happy.

Last month, at my trip to Ilog Maria with my husband's family, I bought several tubs of Royal Jelly, ahoney product touting to be nature's powerful rejuvenator, promotes restful deep sleep, eases stress, tension and anxiety, stimulates glands secretion of balanced hormones, increases fertility and alievates impotence. It's supposed to promote rapid tissue repair and I figured Pyro needs that so much. But of course, Royal jelly doesn't exactly taste nice so I asked my nephew's yaya to follow up the dose with honey. But alas, that trick wouldn't suffice and Pyro gets nauseous.

But heaven blessed us with a helper who wouldn't quit on Pyro... the yaya decided to just mix the Royal jelly with honey and feed it to Pyro that way. Of course the dosage didn't say if that was ok or not, but surely all is not lost that way! And true enough, the yaya just called, asked to inquire where the product could be bought because Pyro's appetite was inspired! Anything and everything to make him eat! :) I'm really so happy, i'm moved to tears.

Oh... and the doctors are more optimistic now after his radiation treatments. I really hope it's not too much to ask God that my nephew be declared cancer free by end of this year. Wouldn't it be totally grand to have a fresh start next year? Just thinking about being able to make plans of beach trips and zoo trips and maybe even Disneyland in HK fills my eyes again with tears.

Hay. Am such a crybaby today.

Maybe because... we passed by Metropolitan Hospital today when I picked up a cake for my boss... where it all started... where it all went wrong. And I don't remember anymore the name of Pyro's original pediatrician... but I really hope she's haunted by her incompetence (for lack of a stronger word) with Pyro. Since we cannot sue her, I just hope Pyro at least help save other kids by making her pay more attention... or by retiring.

Hmm... actually, I think I also have the birthday blues... made more significant because it was on my birthday that Pyro's cancer was discovered... nameless still by then, but already critical.


|| Monday, August 07, 2006 ||

STILL LIVING ON PRAYERS

Py was a little feverish at his birthday celebration last 22nd. But he still loved his cake and the cramped place filled with his cousins cheering him up was testament to just how much love one little child can generate... for himself and in others.



for other pictures, click here



*~*

This week will see the last of his radiation treatments. His chest is all burnt up, and my grandma couldn't help but be bothered by the sight of his spindly legs running about at our family reunion yesterday. But ten months after he was diagnosed with cancer, he's still prevailed and remained a happy, adorable child.

I don't want to say much about it... but please pray for my friends who are rallying together to give Pyro a really wonderful gift.

And please pray harder that things pan out well with PCSO and St. Luke's regarding the medical aid we sought.

*~*





Get awesome blog templates like this one from BlogSkins.com