Picture Gallery
Growing Up
Growing Up 2
Growing Up 3
1st Birthday
2nd Birthday
3rd Birthday
Sick Baby
Climbing Stairs
Christmas 2004
The First Dance
Cancer discovery
Transfer to PCMC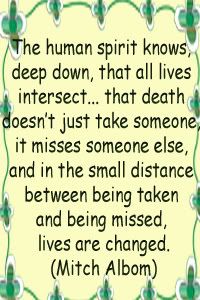 send an e-mail to



prayed for Py? e-mail your mailing address to:
delisyus @ gmail . com
Kythe Foundation
Cancer Warriors
Save Jack Simbulan
World Vision
Give a Life
PGH
Project Brave Kids



RX Pinoy
Fight Cancer
Health for Life
Philhealth Info
PGH
H.O.P.E.
FAD Inc.
Asian Health Outreach Foundation
MAX Foundation
Parallel Universes

October 2005
November 2005
December 2005
January 2006
February 2006
March 2006
April 2006
May 2006
June 2006
July 2006
August 2006
September 2006
October 2006
November 2006
December 2006
January 2007
February 2007
March 2007
April 2007
July 2007
September 2007
November 2007
December 2007
March 2008


Powered By: Blogger
Pictures At:Photobucket and SmugMug

Layout By:Trina & Hajira
Modified by:MOI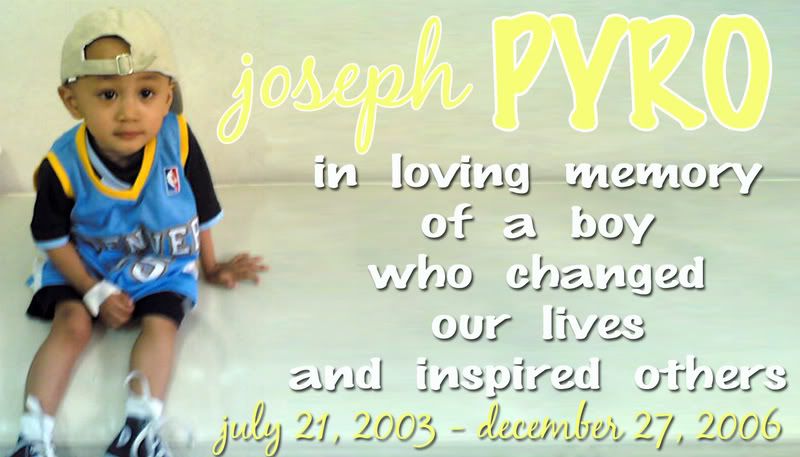 || Wednesday, October 25, 2006 ||

ANGELS WORKING OVERTIME

I don't want to divulge more, since everything is still uncertain. But we're feeling lucky and blessed and can feel in our bones that we could send Py to the US for treatments he couldn't get here.

Angels are working overtime, you see.

And more and more people are coming forward, ready to help.

Maybe it's because Pyro is still a child... and the good adults who get to hear of his case cannot deny us their help, cannot deny him of a possible childhood... of a future free of hospitals and treatments.

God is good.

The people helping us... all Him in disguise.


|| Friday, October 20, 2006 ||

ASK, AND YOU SHALL RECEIVE

Pyro asked to meet Batista.

Jojo asked, through the form of an e-mail, that people forward the e-mail to people who might be able to make my nephew's, his godson's, wish come true.

The Berks helped us to get the idea out through a blog brigade... asking their readers and fellow bloggers to take up the cause.

Those who didn't have connections asked networks and newspapers directly through e-mail.

Before I knew it, it was just bigger than what we've ever hoped for.

I've always referred to it as a long-shot deal... but still, it didn't hurt to try.

And we were overwhelmed with good wishes indeed... and people willing to help.

And because people asked on his behalf... Pyro's wish was granted.

GMA 7's "WISH KO LANG" was able to secure a permit from PCMC to bring in cameras and stuff for their interview on Py. They also interviewed his doctors. And then, they kidnapped Py.

They were supposedly escorting Py home... but took a detour at Gateway Mall where Batista was having a press con. They were there for less than 10 minutes really... and Py was treated like a celebrity. Of course, it's also PR for Batista but what the hey... Py is gracing newspapers with the wrestler tomorrow.

My SIL texted me to thank me, and asked to thank everyone... because though Pyro is still weak from his chemo treatments... they saw how he was made happy by the meeting. It even surprised them that he allowed Batista to carry him, since he's always been choosy that way.

Before falling asleep tonight, his last words to my brother were: "Papa, kinarga ako ni Batista (Papa, Batista carried me)" :)

We saw part of the footage at 24 Oras, which we think will be replayed later tonight in Saksi.

But the real interview with Py and most of the footage of his meeting with Batista will be aired at WISH KO LANG on November 04.

*~*

I cannot thank my husband enough for starting this. I cannot thank the Berks (who were made kulit a lot by Cath) enough for the support.

I cannot thank enough all the others who forwarded the e-mail. And who blogged about it.

I cannot thank all the prayers being said for Pyro... the continued support and sympathy, the continued friendship and love... from friends and strangers alike.

I'd also like to say special thanks to the following:

Sherbien of Nagmamahal Kapamilya (ABS-CBN), for trying.

Kritzia of Make-A-Wish Foundation, for trying... and being happy for us.

A Mr. Jeff (Zenith Opti Media) who also tried to help...

Mr. Mike Garcia (and staff Kim) from Solar Interactive... who coordinated with Araneta Center and WWE.

Ms. Grace Magno (and staff Valerie) from Araneta Center... who coordinated with WWE and Wish Ko Lang.

Ms. Joy from GMA... who was one of the first to respond to the blog brigade, and who was fascinated that a group of people have are rallying on the internet for a sick child (and who bouhgt Py McDo food kanina).

GMA camera people (I believe there is a Robert among them) who shot the initial interview.

Mr. Chino Trinidad, who promised to find out what other aid can be provided to Py and consult doctor friends abroad.

Mr. Batista... for being kind to my nephew. (Friend lampel said, bless his heart for making PY happy)

The WWE people who allowed the Meet-and-Greet.

But really, we couldn't have done it without my caring friends.

And Pyro is so blessed to have experienced such love at sucha young age.

Batista said something like... "I don't think he feels too good but I don't think he feels sorry for himself... because he's probably stronger than any of us... kids are very strong, they're very positive and hopeful and very optimistic... i hope I entertained him a little bit... made him feel strong and good..."

Joy from GMA said... "I hope this made Pyro happy and he's so lucky to be loved by so many people"

Us... we're just happy he's happy.

And we're just teary because people have really been so kind.

*~*

I hope i'm not violating any terms or something here:





He doesn't look it (err, because he just got discharged from hospital?) but Py was realy energized by the experience. He was actually even chatty daw. Watch Wish Ko Lang for longer footages :)

And again, thank God... thank LIfe... for the kindness that made this possible. Thank you all.


|| Thursday, October 19, 2006 ||

PICTURE, PICTURE

Blogger Cath made this wonderful photo slide for Py. :)




target="_BLANK" href="http://www.rockyou.com?type=slideshow&refid=41598040">
title="RockYou slideshow" src="http://apps.rockyou.com/images/logo-mini.gif" border="0"/>
Create Your Own!



*~*

And of course, Tita Mec also made something for the best men in her life...






Now... Py will be discharged today. Pray he'd be strong enough for a trip to Gateway Mall tomorrow... to meet Batista.

Otherwise, who knows what else we can do.

Arrghh... nawala updates ko!

Anyway... as it turned out, Py is too weak and nauseous to be discharged today. So he's missing the Meet-and-Greet tommorow. Ms. Valerie from Wish Ko Lang called me to ask that I coordinate with her still and they're going to get Pyro and his father tickets for the Sunday fight and backstage pass after the show so he can still have his wish!

Cross your fingers?

But more importantly... pray for Py to recover fast from this latest chemo treatment (so he wouldn't feel bad and depressed)... pray Py gets well... and pray for the people who have been contacting me everyday this week (Mike garcia and Kim from Solar Interactive, Ms. Grace from Araneta and Ms. Valerie from Wish Ko lang). We couldn't possibly thank them enough...


|| Sunday, October 15, 2006 ||

SOME SAD NEWS

The CT scan brought sad news. There is a new growth yet again.

The first mass grew to cover his right lung.

The second grew downwards, endangering other internal organs.

This third one seems to be growing outwards from his chest bone, to both of his lungs.

His oncologist is already at a loss... Py is already getting the highest chemo dosage for his cancer, for his age.

His surgeon is stumped as well... and has admitted that there is nothing more in his years of experience and training that he can call upon. He just cannot go in deeper than what he's already done twice before. He promised the parents he'd consult other experts... and advised us to research on new approaches and breakthroughs. He's heard that some doctors abroad administer drugs directly on the root of the cancer using needles, but isn't sure if that is being offered here. He also encouraged us to try and look for medical sponsorships for free treatments... abroad.

Hearing all these, I couldn't help but wonder if my SIL has already gone numb from the pain of being disappointed again and again.

I didn't dare allow the tears that were threatening to consume me then... how could I when my SIL and Pyro weren't crying?

Hubby and I were depressed by the news, of course. But we're also doing everything we can researching other possibilities for my nephew.

But yesterday's visit wasn't entirely sad. Py, depressed again from his confinement, cheered up when Ninong Jojo handed him new toys... a Batman Dark Knight and Yugioh action figures. He played with them as he also played with his wrestler action figures (right now, he's a fan of Finley, the one with the leprechaun). He sometimes would converse with us, telling us he ate the EYE candies (gelatin-y eyes that are supposed to taste good, made for Halloween) and asking to be brought to Star City.

I think he's also gotten wind of what we're hoping to give him... because he mentions Batista visiting him.

Other updates include people from GMA, ABS-CBN and Solar Interactive getting wind of the blog and e-mail brigade for his wish. Both TV networks have conducted interviews with him. It's still not clear who has the power and clout enough to get a busy and famous entertainer such as Batista (or any of the other wrestlers) to have time for a child he doesn't know... and being confined right now means he'd be missing the Meet and Greets in malls (if any) this week.

We are amazed and grateful... and also a little anxious... of all the interest Pyro is generating. All we want is to cheer him up since we cannot yet make him well.

My husband's Mom reminded us that God may have a greater plan for Py... which is why He's not making him well... yet... or He's not really going to allow Py to get well. Friends remind us anew to hold fast to the belief that Py will still get well, to remain hopeful and strong for him.

*~*

Py has the potential to be a great singer. Listen to him sing...


|| Friday, October 13, 2006 ||

PRAYING FOR MORE MIRACLES

Py is back in PCMC for another chemo treatment. We're also still awaiting the results of his latest CT scan. The dream is that the radiotherapy has reduced his cancer to just this rotten mass which would eventually disappear, and he'd only require 2 more chemo treatments. That's the dream. That's the hope. That's the miracle we're claiming for him.

The Smackdown event is already next weekend... we still have no clear anyone who can promise to help deliver his wish. But people have been really so kind... to go out of their way to ask around in our behalf.

Anyway, Christmas is just around the corner... and since some of the Berks are doing so, I thought other people might want to send Py a Greeting Card too, so am posting this:

JOSEPH PYRO
c/o Camitan Residence
1549 A. Isip St.
Paco, Manila 1007
Philippines

* note: he loves Sponge Bob and Tweety characters... pictures of fountains and animals... but he's not very particular :) he'd be delighted enough opening them cards and looking at the pictures/cartoons


|| Tuesday, October 03, 2006 ||

HAPPY BIRTHDAY, DEAR HEARTACHE

I arranged for my family and Jojo's family to gather together for lunch yesterday, as an advance celebration of my birthday... since i'm going to Davao later today and leaving them all... for work.

My MIL brought cake and they lit a candle for it... Py's eyes lit up upon seeing the candle. If anyone reading this has been reading it since the beginning, then they'd know how Py loves blowing out candles on cakes.

He had this shy KILIG expression as everybody sang "Happy Birthday", and my husband actually positioned the cake in front of him... and everyone singing were singing to him... and it took all the willpower I had not to cry (esply with my brother beside me, and being scared to upset Py)... but I really felt sooooo sad that moment because really, it is the first anniversary of Py's illness.

ONE YEAR.

A year ago today, his pediatrician proved very ineffective and incompetent.

A year ago today, my then fiancee and I had to rush to Metropolitan Hospital after having dinner with his family...

A year ago today, I cried with my brother and sister for the first time... hot tears of uncertainty filled with our worst fears fell from our eyes... the first of many desperate, lonely nights...

A year ago today, Pyro tasted his first confinement... the first of almost monthly treatments he'd have to face.

A year ago today, we started learning about how random and impersonal things can be.

A year ago today, cancer came into our lives.

We'd still give everything we can just to have Pyro declared cancer-free. Our hearts still go out to him, worry for him, beat strongly for him...

And our hearts have never stopped dreaming... of years of a normal childhood for him... of trips and games and school and a future family life...

And if there's anything that has truly been constant... it is Pyro's spirit. He is just truly a cheerful, wonderful, intelligent, loving, lovable child.

And he inspires us.

Everything we do for him cannot compare to the richness he brings into our lives.

Aned yes, for him, we cannot help but believe in a God.

*~*

Like what i've posted before... chemo has led him to lose his hair again. He casually told his Yaya that IT SEEMS GOD DOESN'T WANT HIM TO HAVE HAIR.

*~*

Happy birthday, dear heartache... happy because the heartache hasn't killed anything really important in our lives yet... not Pyro, not our faith, nor the hope that burns eternal in our hearts...

But please, no more... let Pyro be healthy again...

*~*



He was so LAMBING yesterday... and we know he had so much fun! Check the other pics out here

And for all those of you who have taken this journey with us... those we cried to, those who lent money, those who gave money and toys and inspiring books, those who are rallying to make Pyro's wish come true (meeting Batista)... Py's Ate Bebe helped him make this card to thank you all...




Because our family is truly grateful... and you've made Pyro all the more blessed




Get awesome blog templates like this one from BlogSkins.com