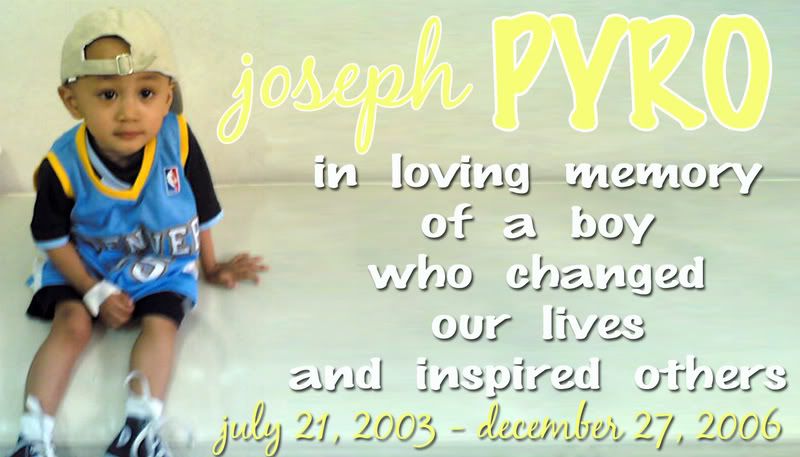 || Wednesday, January 25, 2006 ||

HE WAS IN GOD'S HANDS ALRIGHT

And we're still amazed at how well he has responded to it all. Our beloved is really a fighter... and maybe because he's young, he still has much of life in him.

Anyway, it was with great gratitude and happiness when my brother texted me yesterday to inform me that Pyro has been DISCHARGED from the ICU. His lungs could operate just fine :) And my brother thanks everyone, and asked me to be specific and thank the readers of this site who have been praying for his son.

And of course, he asked for more prayers. But he need not do so.

For when I found out that Pyro's surgery went relatively well, I texted all the contacts in my fone book. Most replied with happiness too at the news, and all of them also said they have been praying for him every day/night... and that they'd continue praying for him... for COMPLETE RECOVERY.

I dare not hope so much since I know the road ahead is still a rocky one. But Py has survived 3 chemotherapies and 1 major surgery and he's still with us. That alone feeds the faith that God didn't give him to us two and half years ago only to take him away this early.

:)

Thank you all for helping us storm the heavens with prayers.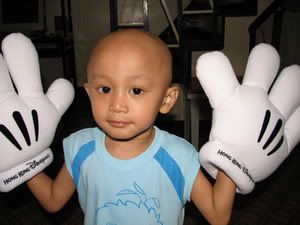 Py playing with our Mickey Mouse hands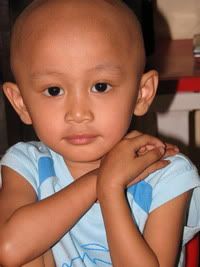 Look past the fact that he looks old and sick, and he's too thin. Look at his eyes, his soulful eyes and that half-smile. Aren't they suggestive of a promise? And isn't my nephew beautiful?