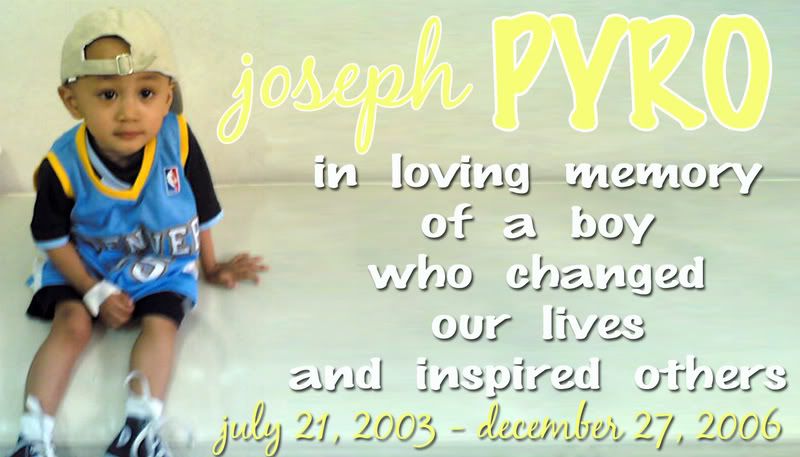 || Thursday, October 19, 2006 ||

PICTURE, PICTURE

Blogger Cath made this wonderful photo slide for Py. :)




target="_BLANK" href="http://www.rockyou.com?type=slideshow&refid=41598040">
title="RockYou slideshow" src="http://apps.rockyou.com/images/logo-mini.gif" border="0"/>
Create Your Own!



*~*

And of course, Tita Mec also made something for the best men in her life...






Now... Py will be discharged today. Pray he'd be strong enough for a trip to Gateway Mall tomorrow... to meet Batista.

Otherwise, who knows what else we can do.

Arrghh... nawala updates ko!

Anyway... as it turned out, Py is too weak and nauseous to be discharged today. So he's missing the Meet-and-Greet tommorow. Ms. Valerie from Wish Ko Lang called me to ask that I coordinate with her still and they're going to get Pyro and his father tickets for the Sunday fight and backstage pass after the show so he can still have his wish!

Cross your fingers?

But more importantly... pray for Py to recover fast from this latest chemo treatment (so he wouldn't feel bad and depressed)... pray Py gets well... and pray for the people who have been contacting me everyday this week (Mike garcia and Kim from Solar Interactive, Ms. Grace from Araneta and Ms. Valerie from Wish Ko lang). We couldn't possibly thank them enough...