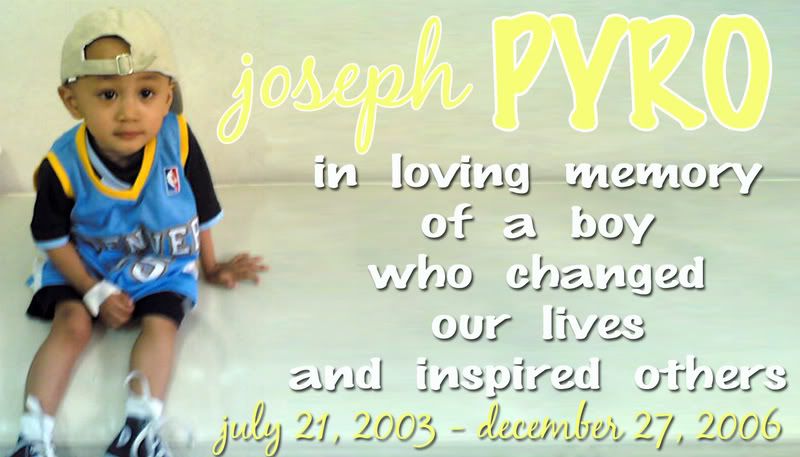 || Friday, November 02, 2007 ||
ALWAYS REMEMBERED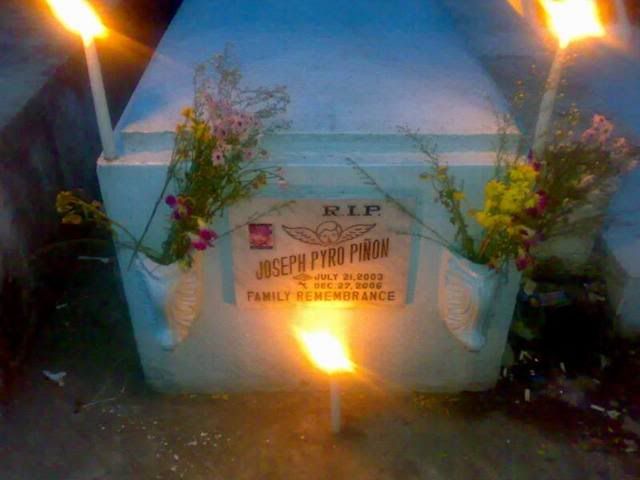 Your Ninong Jojo had to visit your grave alone yesterday... because i'm in no conditon to really brave the Halloween crowd, and your baby cousin shouldn't be exposed to so many elements this early. I know you understand, baby. I know you saw Ninang Rez and Tita Gang the other day... and look forward to your parents returning with your cousins and yaya Dimples there tomorrow.

In a way, I feel ashamed to say that most of us have moved on. Not from love of you, but from the loss of you. Ninong and I are busy enjoying parenthood, and Tita Gang and Rez can't help but adore cousin Yakee a lot too. We've arrived at a place where we can remember more of the good times with you. Everyday comparing Yakee's development with yours, everyday believing that you're the reason Yakee always smiles and giggles and laughs, especially when he's asleep.

Your father can't handle holding a baby just yet... I hope you help prepare him to be able to celebrate your sibling's arrival in April. And I know you'd understand if your parents will move on, in time, and maybe focus more on your sibling (we feel it's a girl). It's but right, right baby? I know you'd want nothing more than to have your sister feel as loved and blessed as you were when you were still alive.

Py... share your sense of God's wonder with Yakee and your sister... and your other cousins. Let them be as touched by God as you were, so that they'd grow up as good as you.

Always, we will love you. Always, we'd remember.