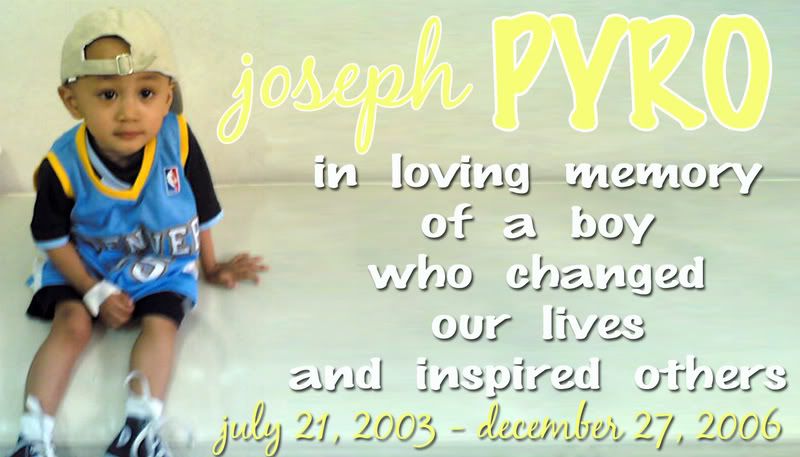 || Wednesday, July 18, 2007 ||

HIS BIRTHDAY IS COMING UP...

... well, that's all I can think about, really.

I know it's bad to be crying every day again over him... resisting the urge to really remember... resisting the urge to dwell on our loss...

... this is the first time that i'd be buying a birthday cake that he won't enjoy... oh, how I used to worry and plan over which perfect cake design to get for him...

I dare not even ask how my brother and SIL are...

*~*

I dreamt of him while I was in the hospital several days ago. In the dream, he was only around one year old... and he was claiming as his the baby clothes we have prepared for my unborn son. My sister and I would hide the clothes and he'd go playing again... and then find the clothes again and go running with them again.

In a weird way though... it wasn't a sad dream, so I didn't end up crying upon waking up.

*~*

My husband's family is thrilled that we're having a boy... my side of the family is torn. Of course, we're happy anticipating his birth, but we know that there'd be pain as well.

There'd always be pain for as long as we love him. And like what i've always said, we'd always love Py.

Always.

*~*

One thing is for sure, we'd make sure to raise our boy in a way that he won't have to compete with his cousin's memory... but we'd also teach him to love and learn from that cousin he never got to meet.

I'm just praying for some peace and comfort now...