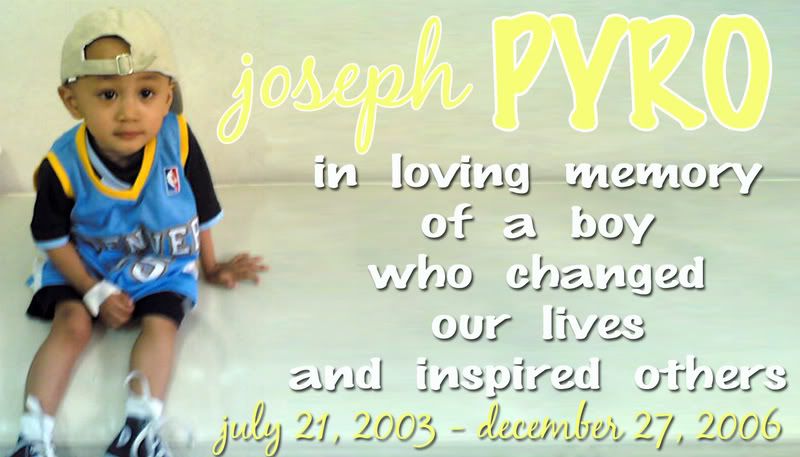 || Saturday, July 21, 2007 ||

HAPPY BIRTHDAY, DEAR PYRO
(who would have been four years old today)

I dreamt of you last night... I was shouting Yapeeyee to make you stop something you're doing...

*~*




Credits: used Joyce Designs Sweet Dreams paper and heart
Fonts: lainie day, kelt and bickham script

Journalling: we'd always be sad that you only had three birthdays with us... but we'd always celebrate the day God gave you to us for you enriched our lives with so much beauty and love



*~*

We'd be converging at your resting place... I will buy the biggest mocha cake I can find, and we'd sing you the usual birthday song. And then we'll share the cake with the kids living at the cemetery, who have grown to be your friends, who continue watching over your grave, who picks flowers for you just because you're the cutest boy they know.

They know of the toys buried with you. They know how blessed with love you were when you were alive. That's why we're sharing your cake with them today. That's why your Mom is making those chocolate pops to give to them.

Tita Alma and Ninang Grace are also buying balloons for you... frustrated that we didn't get to fly some when we buried you.

Chances are, we'd all be crying a lot. But only because you're gone. Your birth will always be one of the happiest days in all our lives. Your birth will always be a miracle... a proof of God's love.