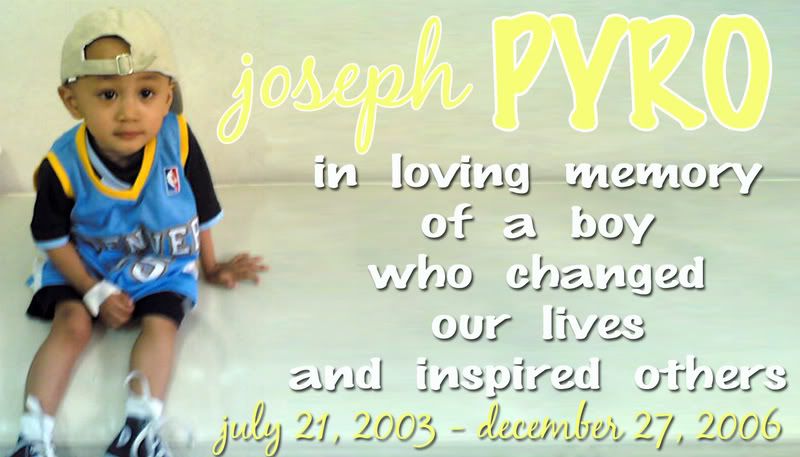 || Sunday, September 17, 2006 ||

MAKING THINGS BETTER

My blogfriends and other bloggers have rallied yet again for my nephew. Batjay, Jet, Yuga, Brownpau, Busgy, TiT Rolly, Resty O, and Rickey.

My husband started the e-mail movement for this cause and blogberk Cat thought to augment it by starting a blog movement as well.

And my family and I are humbled with more gratitude to these people who have their own lives to lead, and problems to worry over... but who thought to spare a moment and some space for my nephew.

Tomorrow will mark his 3rd week in the hospital. Reminds all of us of October last year, when doctors were taking their time making the diagnosis.

He missed a family reunion today... because he's still stuck at PCMC.

But you know what's priceless? Py getting his appetite back and eating voraciously... and even complaining very early in the morning why his munchkins didn't have fillings :)

*~*

I can never really repay the kindness being bestowed on my nephew, my family and me. But I know Life will take care of what kindness we cannot repay. And I hope the lesson of graciousness here would stay with us forever, something we'd also pay forward.