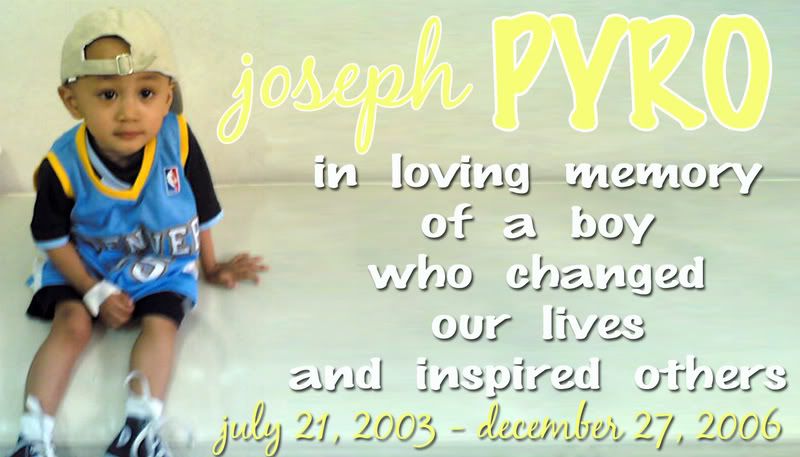 || Tuesday, July 04, 2006 ||

FRESH TEARS, SAME FEARS

Pyro started his radiotherapy treatments the last day of June. His birthday is July 21 and we don't know if we have enough resources for a birthday party... and if he'd be up to actually party. Being a tot traumatized already by hospitals and doctors and syringes etc, he requires anesthesia every day... EVERY DAY... for THIRTY days. Unless of course we want the radiation to hit his internal organs and what-not (and if we did, we wouldn't have tried coming up with the money for this more expensive treatment).

There we were, bothered by the fact that Py, as expected, is upset with the daily treatments and isn't eating much... only to be told that he has to undergo another check-up by his team of experts at PCMC because it seems (to his radiologist) that there is A NEW MASS agressively growing right where he just had an operation less than a month ago.

(details are given to me second-hand... but my brother just told me that Py's latest CT scan before his radiation treatments suggested that there is a new mass at his mediastinum... and now they've noticed that his chest has swelled yet again, strengthening the suspicion that there IS a new mass indeed... and so soon after his second surgery... and I really don't get why his radiologist cannot make the decision to perform the lab tests necessary to verify this fear and waste precious days before the child can be brought to the other doctors)

Hay. I've been seeking comfort from friends again... crying to them over this.

God, please... make Py well na please.