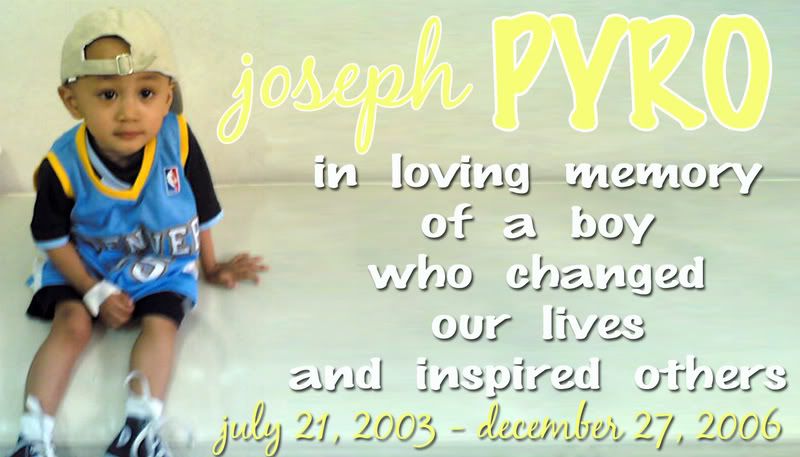 || Monday, April 10, 2006 ||

HOPEFULLY, THE SEVENTH TIME IS LUCKY

I'm actually not sure if this is indeed the seventh (or sicth time) Py has had chemoherapy. I'm pretty sure he got chemo treatment before he was operated on last january...but again, am not sure.

He gets discharged from the hospital today... after several days of basically feeling groggy and in pain... and throwing up everything he ingests...

On one hand, it's like October still... and we're all still stuck in the hell that Life threw us in, riddled with questions and non-guarantees.

On the other hand, Life didn't stop still for our grief... and even Py, who's sick, has continued to thrive and develop like any other toddler. I can't even say that he is an unhappy boy. His battle rages on, and we're all still around to help see him through. The prayers haven't stopped... but the tears don't come everyday anymore.

It's both good and bad that we've learnt to live with his cancer.

And, in three months time, he'd be three years old.


Calvin & Hobbes and Garden Dingbats fonts, Easter by Jaimie - Element Grass, LSmith Girl Thing Kit - Element Butterfly



Shabby Princess - Two Soon Kit (Floral Paper), Sweet On You Free Kit (Double Heart Kelfin), Lainie Day, Inkburrow and Jane Austen fonts