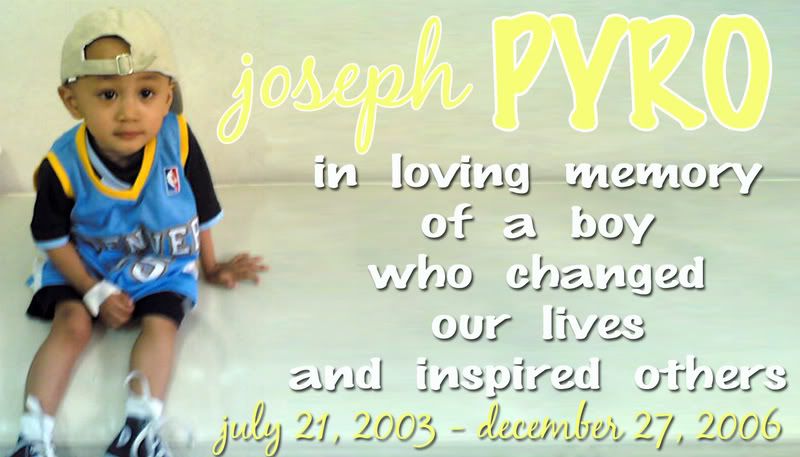 || Tuesday, February 28, 2006 ||

MORE SCANS

We know he's still sick. We know that it isn't over yet for him, nay, it may never ever be over for him. But always, there is that moment of rage and utter sadness when you get confronted again by the fact that it isn't over yet for him.

Still, his last chemo went relatively FINE for him. He went home after several days of confinement a little weakened but cheerful just the same. He was even sweeter to all of us, and would often greet me again with arms spread out, demanding a hug.

Woke up to see him all dressed up today for his CT scan, brain scan and abdominal scan. It seems his SLDH (?) levels didn't decrease after the removal of his tumor, and his oncologist wants to make sure that they are missing nothing.

But oh, is Pyro cheerful.

My sis, who didn't have classes yesterday, made these elevator buttons to paste on the archway dividing our sala and dining area. Now, Pyro sits under that arch on his mini-chair and invites people to board his elevator. He doesn't allow you 'in' till you've pushed any of the down or up buttons. It's so cute! I just didn't get to take a picture last night.

For anyone who's passing by, say a prayer for him naman that his scans turn out negative? Because we're really gunning for just 2 more chemo cycles to have him declared cancer-free...

What a blessing that would be for his 3rd birthday... which we're already planning, even if it's still in July.

*~*

God, thank you for a child's innocence and grace.