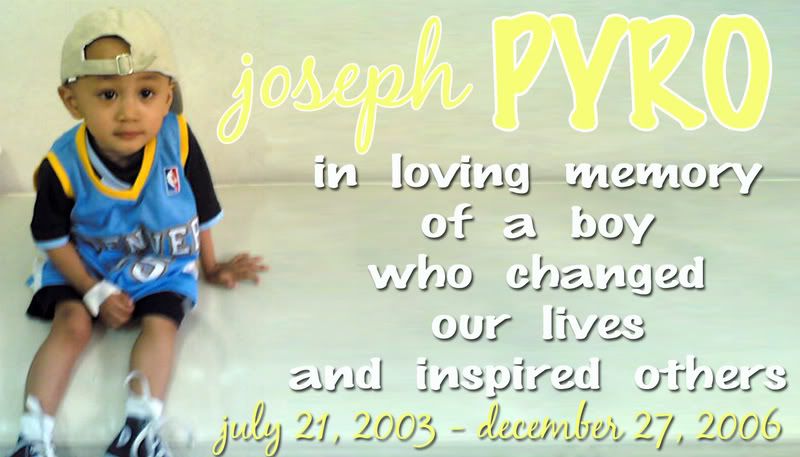 || Monday, February 13, 2006 ||

AND THE CHEMO SESSIONS START ANEW

I thought his next chemo treatment is still on the 19th, so I was surprised yesterday when his Mom started packing their bags to go to PCMC.

I was sad. For the treatments start anew for him. And the glee (and noise) he has showered both houses with went away with him yesterday.

But yes, i know, yesterday, he went there in a more hopeful state than ever. And i know, we can really start re-claiming his health from now on.

*~*

He came up with the idea to play 'elevator' at home, using the arch that divides our living room from our dining area. He'd stand under that arch and have his Mom stand there with him. Then he'd announce that they're going up in an elevator.

He would also have Ninang Grace stand there with him.

I tried playing along, but unfortunately for me, I wasn't welcome. I was told not to ride the elevator with him.

Ninong Jojo was also unwelcome. HINDI DAW KASYA :)

*~*

Love you, love you Py.

*~*

meanwhile, my colleague shared with me an article from the Philippine Daily Inquirer (11 feb 2006 issue) about Project: Brave Kids, in coordination with Philippine CanServe, both of which are working to help less finacially-able families to get help for their cancer-stricken kids.

hopefully, more people will be contributing to their cause... and please join me in saying a silent prayer for everyone whose lives, in one way or another, have been touched by cancer.