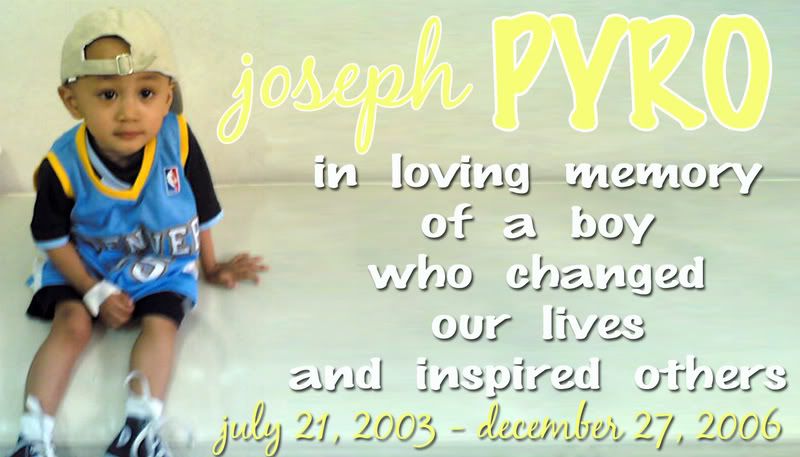 || Monday, November 14, 2005 ||

SIGH... THE FEAR

Some people have said that having an ill child is usually hardest on the adults, you who are aware of all possibilities and limited by statistics.

Anyway, suffice it to say that i've been greatly depressed by Pyro's shaved head since well... it was shaved. And dreading tomorrow when he returns to PCMC for another chemo cycle.

*~*

Because his Dad had to work last night, he slept with us. He, my cousin and sister would sleep on the floor in my bedroom at such times. My sister actually hates sleeping on the floor but she wouldn't sleep at my brother's bed with Pyro... and we wouldn't leave Pyro alone on a bed.

So floor it always is. (he has a comforter for a matress anyway... my sis has to make do with my earth pad)

Anyway, woke up this morning and looked down.

Imagine my fright when i thought Pyro had been left alone, and was malikot, and managed to wrap a blanket around his face.

I literally jumped from the bed and was going to snatch at the blanket, already praying that he's still breathing... when I saw his beautifully shaved head.

It was his feet that was wrapped with the blanket.

Gah....