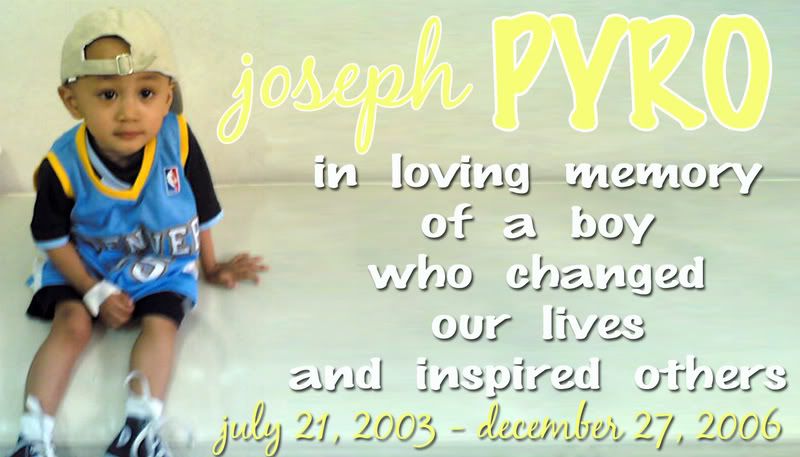 || Monday, October 17, 2005 ||

WHEN IT RAINS, IT POURS

We thought the waiting game for the biopsy results from St. Luke's would end today... I was preparing for my world to totally crash or to be given MORE HOPE. But alas, some things are just meant to drive you crazy first before you get a reprieve.

Weirdly enough, we were advised to become out-patients for the meantime and be discharged today. Still awaiting advice from Dr. Gepte (Py'soncologist) but I think it will come through.

Today marks the 2nd week of this terrible ordeal. And I can't help but be glad that Pyro can come home, even for only awhile, thinking it would be less stressful for him at home since it is HOME.

But tell Py that we're going home and he now says "AYOKO".

After all, he's gotten used to riding on wheelchairs and laughing at the monkeys on the murals of PCMC's 2nd floor. He's even taken to reminding people to make him wear a mask whenever he ventures out of his room. He now even plays balloons with doctors and nurses and greets them heartily when they visit.

Of course, that's mainly because he hasn't been strapped to an IV for days now.

But it's really amazing how a child can easily make 'bad things' his friend... and adjust to depressing circumstances.

Py has learned to make the hospital his home.

And having us visiting him everyday helped, am sure.

And am now at a loss on whether this bodes well for him and his fight... will making the enemy (cancer) his friend kill it, or will making it his friend mean he'd embrace the illness and succumb to it?

And if Jojo isn't already very depressed about his godson, Life throws another ball his way and lands his father in the hospital.

Future father-in-law's kidneys are having problems, we think as one of diabetes' complications. His blood sugar and pressure are both still high and he's been confined for 3 days now.

When it rains, it pours.
But I know the same is true for blessings.

*~*

I've been dazedly praying ever since this started.

And i've been dazedly in pain.

And I know God will not always transform the pain or make it go away.

But I know pain transforms people.

Look at Py. :)

I just hope i'll be transformed for the better...