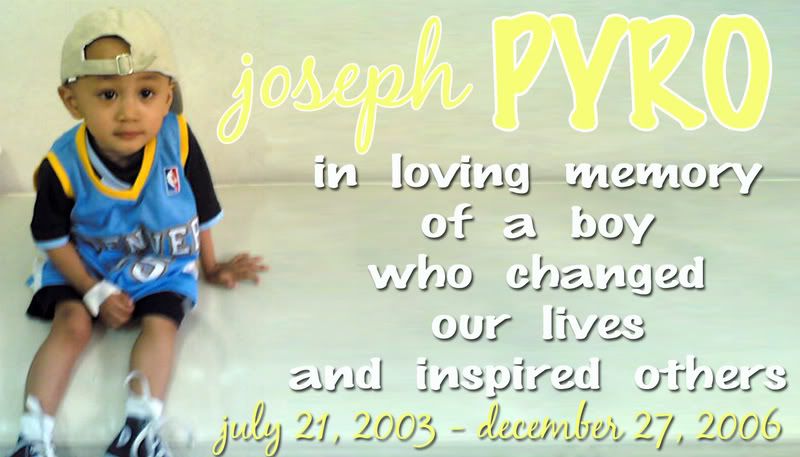 || Thursday, October 27, 2005 ||

O, BEAUTIFUL AFFLICTION


O Beautiful Affliction
Merciful pain
This mortal wounding bringing me to life again
In suffering there's healing
This darkness revealing
Silence speaking volumes to my soul
O Beautiful Affliction
Blessed brokenness that makes me whole

- John Fischer

(thank you Rocks, for sharing to me this poem)

*~*

I know that Pyro is too young to even appreciate the truth in this poem... but am not talking about his pain. I'm referring to the painful truth of our mortality, and how, suddenly, life has become all the more precious and meaningful and magical.

Suddenly, time is not just gold, it's titanium and diamonds.

Cancer would always be a terribly ugly word. But if it has any rewards at all, it's the lesson of making every moment count.

*~*

Pyro is back to his weird, happy self. Imagine devouring rice with paksiw na isda and ginataang liswik for sabaw (yes, combined!). He's demanding and noisy and cute and hasn't vomited since yesterday afternoon. He's also enjoying the Chirstmas tree and lights in the house immensely.

And the flicker of hope that we can still have a happy Christmas is now a flame.