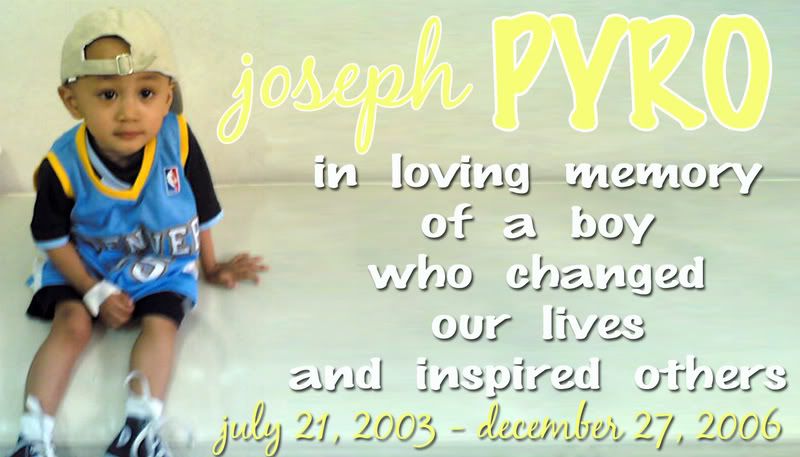 || Tuesday, October 25, 2005 ||

THE FIRST CHEMO CYCLE ENDS

His chemo cycle consists of 3 drugs... Bleomycin, Cisplatin and Etoposide and lots of hydration and anti-nausea drug (one of which, Py was allergic to and almost killed Py last Friday).

He gets discharged today.

Hopefully he'd eat better when he gets home... and being home would result in less depression for him.

He's been reduced, not to just skin and bones, but to this whimpery child who always has to have someone holding him close in his hospital bed... starting to cry everytime the door to his room opens (even if it's just the janitor)... silent... without appetite...

The somewhat good news however is that he seems to be responding to the chemo treatment already... for his oncologist could already detect an improvement in the breath sounds in his right lung.

Truly, there is hope.

*~*

Jojo's Dad was released from his confinement last Fri lang. He's now instructed to get regular insulin shots.

*~*

I have a niece who was born with a hole in her heart. Her pediatrician detected this abnormality when she was only 3 weeks old. She's a thriving 4-yr old now... one of my flower girls.

However, the left part of her chest cavity swelled (?) or grew higher than her right... so she's scheduled for some tests to check.

*~*

Thanks to everyone who left kind words while I was generally away.